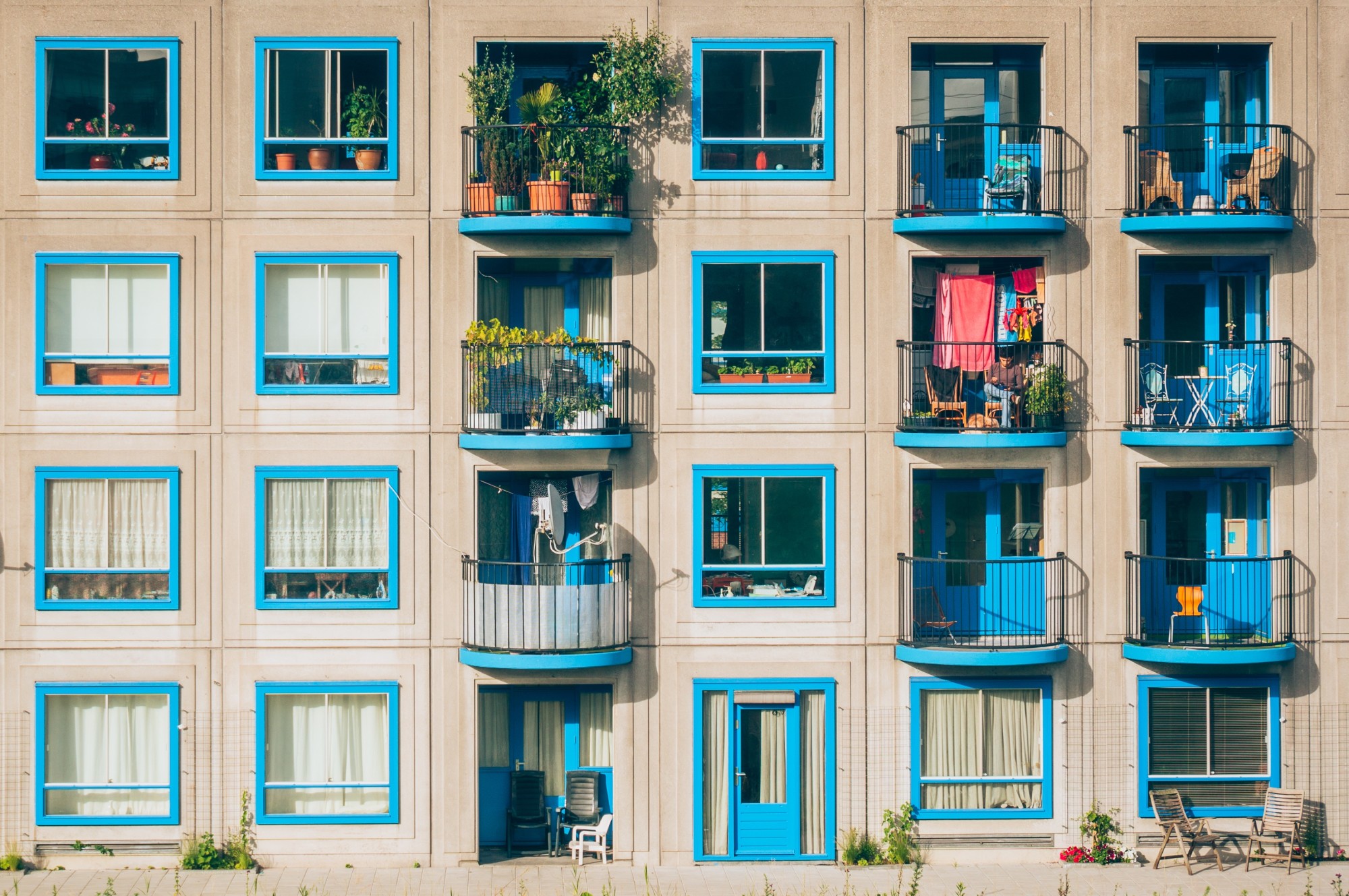 Our outdoor living spaces are more important than ever before—and
90% of Americans agree
.
We all need a beautiful outdoor space to retreat to. People are spending more time gardening, grilling, dining, and entertaining on even the smallest of apartment patios.
The size of the apartment
patio doesn't matter—there is no limit to what you can do when decorating it!
Want some ideas on how to create an enjoyable outdoor living area in such a small space? Check out these amazing, creative first floor apartment patio ideas.
A Quaint Parisian Look
One of the best apartment patio dcor ideas is to create a french-inspired courtyard. French-style is defined by combining both rustic and refined decor and can easily be accomplished on your very own patio!
Start with an elegant floral outdoor rug to fuse your small patio with a Parisian look. Add a round table with a wrought iron or steel table base and pair it with quaint bistro chairs. Metal or iron plant shelving rack filled with lavender, wildflowers, and delicate vases full of seasonal blooms will make for nice touches.
Sprinkle your patio with rattan baskets to fill with books, blankets, or other items that can add to your Parisian retreat. Make sure you have some lanterns on hand to add some charm to your evenings. Include rustic accents and a landscape painting if you have some wall space to decorate.
Another nice touch is a fringed or floral sun-blocking umbrella. Then, all you'll need is some caf au lait and some croissants, and you'll feel like you are on a sunny balcony in Paris!
Inspired by the Seaside
Who doesn't love to feel the relaxing vibe of being by the sea? A seaside theme is another one of the most perfect apartment patio decorating ideas!
Your decor should incorporate nautical colors such as blue, white, and beige to feel like you are by the sea. White or light wood is great for your patio furnishings. Consider a simple rocking chair, hanging egg chair, or even a hammock for seating that makes you feel like you are lounging seaside!
Place a rattan rug on your patio floor, and hang some nautical artwork or a wooden carved anchor. For an authentic seashore vibe, incorporate beach-inspired details such as a dangling shell wind chime, boating ropes, vases full of shells, and some green plants.
To feel like you are getting a complete experience by the seashore, be sure to add some
warm-toned string lights
or glass lanterns. These details will enhance the seaside vibes of your patio, where every night can feel like a warm summer night by the sea!
Create a Zen Space
If you are looking for small apartment patio ideas that turn your patio into a place of peace and tranquility, turn it into a zen garden.
Otherwise known as a Japanese garden, a Zen garden is inspired by nature. They are serene spaces for peace and reflection. For this patio dcor, stick to neutral colors like the ones found in nature.
Use part of your patio to make a small garden. Add a variety of green plants, bamboo, and small potted trees such as cherry trees or lilacs. Tall planting pillars topped with stones and some greenery add a nice touch.
Interlocking wooden patio flooring is a simple-to-install element that adds a warm feel to your floor. If that doesn't work, a neutral-colored rug made with natural fibers will do the trick.
Incorporate wooden or bamboo patio furniture and another essential element—a water feature for a true zen feel. There should also be some stones, large or small, that add an earthy vibe.
Add a bamboo privacy screen that also serves to block the sun, and your zen garden patio will be the perfect place to relax at the end of a busy day.
Farmhouse Chic
A country-style patio is perfect for small apartment patio ideas on a budget. Yard sale finds and antiques are encouraged when styling your small outdoor space with farmhouse chic! Styling your patio in farmhouse chic is inexpensive and guarantees a warm, rustic, inviting atmosphere.
For seating, choose worn wooden benches or older, refurbished chairs. A set of wooden rocking chairs would be an excellent choice. Tables should also be in warm tones and slightly distressed for an authentic feel. Add some floral pillows and accents in shades of blues, browns, greens, and yellows for a beautiful country touch.
Add some wrought iron plant shelving and fill it with wildflowers, sunflowers, or hydrangeas in terracotta pots. Other charming, country-style patio details could be a hand-painted birdhouse, rustic watering cans, and seasonal floral wreaths.
To give off an evening-at-the-farmhouse vibe when the sun sets, be sure to incorporate some warm-white string lights or lanterns.
A Tropical Escape
Need to come up with creative first-floor apartment patio ideas? Think tropical! It's the perfect inspiration for a colorful, fun, enjoyable patio.
Start with a multi-colored outdoor carpet or one that includes leafy, tropical greenery. Add wicker or wooden furniture with cushions or pillows in bright reds, yellows, pinks, and purples.
A tropical patio is not complete without the addition of greenery! Try to include tropical plants like ferns or big-leafed plants. If the weather is not suitable during different seasons, you could always incorporate some artificial plants.
Add colorful knickknacks, vases, and wall decor for a complete look. Add a few tiki torches and multi-colored string lights for an authentic tropical evening ambiance.
A Variety of Apartment Patio Ideas
There are creative first floor apartment patio ideas for every patio size. All it takes is a little creativity and inspiration, and you are sure to have a warm, welcoming outdoor space.
For the best in modern apartment options for rent in Sioux City, Iowa,
contact us
at East Edge Apartment Homes! We would be happy to schedule a tour or to answer any questions you might have.